Courses and Education
View the newly developed courses created by AAAIP specifically for AAI professionals. Significant savings on courses available to AAAIP members. View pricing.

The courses are designed to prepare you for the Animal-Assisted Intervention Specialist Certification exam.
---
Best Practices in Therapy Animal Handling
The goal of this course is to reinforce the standards of practice and professionalism for the field of animal-assisted interventions (AAI), helping it become widely recognized as a valuable complimentary treatment modality. In these four modules, you'll review key terminology as well as the general requirements and essential skills for therapy animal teams, consider how relationship and teamwork impact the team dynamic, and explore how to direct therapy animals through respectful and safe client interactions. If you are new to therapy animals, this is a great place to start!
View the course details and pricing.

Training and Communication in AAI
Training is an important aspect of working with a therapy animal, but we must ensure that our training doesn't prevent the animal from communicating freely with their handler. Effective two-way communication is essential for safe interactions that protect animal welfare in AAI settings. This course, which consists of four modules and an assessment, will take you through foundational concepts about therapy animal behavior, training expectations for dogs and other species, training methodologies and their appropriateness for therapy animals, and illustrate the importance of a therapy animal communicating freely during AAI sessions.
View the course details and pricing.
Purchase course.
Animal Welfare and Well-being
This course is designed to prepare professionals to be advocates for any animal that assists them in their work, which by extension supports client safety. Content covered will focus on the well-being of the animal, help professionals determine animals and clients suitability, provide practice for difficult situations that may arise, and explore considerations for how to end the intervention when necessary for the animal's welfare.
View the course details and pricing.
Zoonotic Disease Prevention
Therapy animals can provide many benefits to clients. They can also create health risks. In this course, you'll learn about the risks of zoonosis and mitigation strategies as well as important considerations for your informed consent documentation.
View the course details and pricing.
---
Course Pricing
Significant savings on courses are available to AAAIP members.

Ready to get started? Purchase a course.

Interested in joining AAAIP and purchasing a course? Click here.

---
AAI Specialist Certification Exam
AAAIP provides the opportunity to show evidence of AAI professional competencies through the Animal-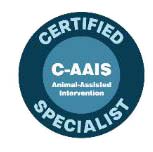 Assisted Intervention Specialist Certification (C-AAIS). This 125-question, three-hour-long, remotely proctored exam is a credentialing opportunity that demonstrates a professional's knowledge of best practices in AAI, which include animal welfare and well-being; zoonosis and infection prevention; animal behavior awareness; and the foundations of AAI as outlined in the practice analysis. Passing this exam provides evidence of intervention-specific knowledge that promotes AAI as a complementary treatment modality within a professional's existing scope of practice. This certification exam focuses on the core knowledge base and does not include an evaluation with an animal.

AAAIP All-Access members receive a $100 discount on the AAI Specialist certification exam. View pricing details.

Learn more about the exam.

Resources
View the Difference in Credentials Infographic.
View the Candidate Handbook.