Frequently Asked Questions
Who is eligible for AAAIP membership?
AAAIP is a community of professionals who value the human-animal bond and the power of animal-assisted interventions. Its mission is to empower professionals to responsibly integrate the healing power of therapy animals into their practice while advancing the field of Animal-Assisted Intervention (AAI). AAAIP membership provides research, resources, certification, and networking to any professional who is interested in the safe, ethical, and effective practice of animal-assisted interventions. Members may include professionals wishing to practice AAI, trainers or behaviorists involved in the training of therapy animals, and researchers investigating AAI.


Does AAAIP welcome international members?
Yes. AAAIP is a global community of AAI professionals that welcomes international members.

Will professionals need a therapy animal in order to join?
No. Professionals might work with volunteer therapy animal teams, plan to work with a therapy animal at some point in the future, or be in a field that requires knowledge of AAI.


I have a pet that I want to bring into my work/practice.  Does AAAIP register handler-animal teams?   
If you wish to receive evaluation and registration as a team, together with your animal, you can do that via Pet Partners or another therapy animal registry.  Pet Partners and similar registries are designed for volunteers; however, they can be useful if you desire third-party assessment and documentation that you and your animal have been registered.  This is often required for professional insurance (which we can connect you to via AAAIP), even if the assessment and documentation comes from a volunteer-based organization.  Once registered, you do not need to volunteer on behalf of Pet Partners, although many practitioners hone their handling skills as a volunteer before incorporating their therapy animal into their paid work. We do recognize there is a unique need for working professionals and AAAIP is currently in the planning stages of creating an AAAIP evaluation designed for practitioners.


If I choose to, how do I register with Pet Partners?  
AAAIP is pleased to be an affiliated organization with Pet Partners, the nation's leading organization registering therapy animals for animal-assisted interventions (AAI). Since 1990, Pet Partners' Therapy Animal Program has set the standard for what it means to deliver excellence in AAI. To get started, visit the Pet Partners Volunteer Center and create an online account. Next, click My Registrations and then Start a Team Registration.
I have a facility animal. Does AAAIP apply to me?
Yes. Facility animals are a kind of therapy animal who tend to focus their work in one setting. The term "therapy animal" refers to all specially trained animals that provide physical, psychological, and emotional benefits to those they interact with. This term includes all animals trained and evaluated on their ability to safely interact with a wide range of populations along with their handlers who are trained in best practices to ensure effective interactions that support animal welfare. It is important to note that while a practitioner may regard their animal as a "facility animal," they must still adhere to the therapy animal standards and best practices that have been widely validated by experts in the field.

What is the AAI Specialist certification exam?
AAAIP offers the Animal-Assisted Intervention Specialist certification (C-AAIS), a credentialing opportunity that demonstrates a professional's knowledge of best practices in AAI which include animal welfare and well-being, zoonosis and infection prevention, animal behavior awareness, and the foundations of AAI. Passing this exam provides evidence of intervention-specific knowledge that promotes AAI as a complementary treatment modality within a professional's existing scope of practice; it does not assess an individual animal's suitability or a team's readiness for therapy animal work.
Do I have to belong to AAAIP in order to sit for the exam?
No. Anyone who believes they can pass the exam upon reviewing the domains represented in the practice analysis can sit for the test.
 
Will the certification exam involve an evaluation with my animal?
No. This initial certification exam focuses on the core knowledge base helping to ensure no one is left behind jeopardizing animal welfare, client safety, or the field at large. Certification programs evolve over time. As the field matures and based on the feedback of AAAIP members, a secondary certification involving an evaluation with a practitioner and their animal may be developed.
 
How do the costs of AAAIP/certification break down for members vs. non-members?  
Education and the certification exam are available to both members and non-members. Members will receive discounted rates on all AAAIP offerings.

How does organization membership work?  
Organization membership is appropriate for businesses, facilities, and higher education institutions in which three or more individuals desire to join AAAIP. The organization membership provides access to all AAAIP membership benefits. Please have the names of the three individuals and contact information available when purchasing the organization membership. Organizations can purchase additional membership at a discounted price.


How is AAAIP different from Pet Partners?
Pet Partners serves volunteer handlers who share their companion animals with those who benefit from interacting with therapy animals (e.g., a volunteer handler who visits at a school for no more than 2 hours at a time).

AAAIP provides resources for those who incorporate therapy animals into their professional practice (e.g., a school counselor who has an interest in integrating an animal into their professional work).

Some professionals will choose to be involved with both Pet Partners and AAAIP. These teams might complete the Pet Partners registration to obtain the title of a "therapy animal team" and so that they can conduct volunteer visits outside of their vocational duties.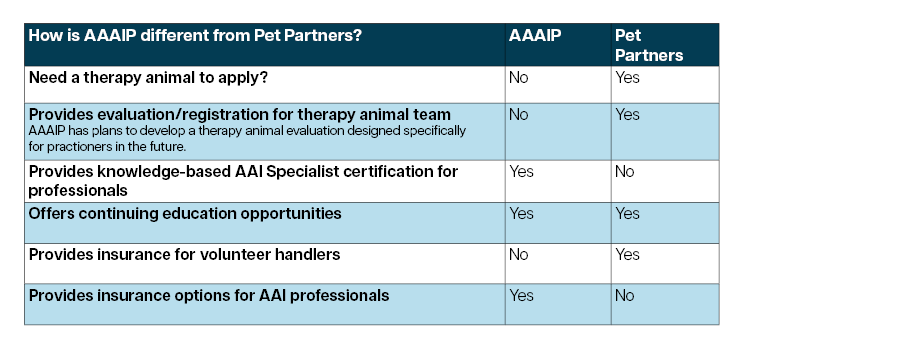 I have an educational offering I'd like to share with AAAIP members. How can I do so?
We are always searching for education resources, particularly those that align with the practice analysis for animal-assisted intervention specialists that can be pre-approved for continuing education for certification. To discuss promotional opportunities as well as CE pre-approval, please contact us.

I'm a researcher who would like to recruit within the AAAIP audience. What are my next steps?
If you are looking to recruit volunteer therapy animal teams to participate in your study, contact AAAIP. If you are a researcher looking to study AAI in professionalized settings, consider joining AAAIP to access an online community board specifically designed for recruitment. Membership in AAAIP will also provide you with best practice resources and continued education specific to incorporating the highest standards of practice within your investigation.    

Are there any volunteer opportunities available within AAAIP?
Volunteer opportunities exist for members to contribute to the growth and development of AAAIP as an organization, and volunteers are also needed to create vocation-specific leadership groups representative of the many fields of practice that incorporate AAI. There are also opportunities for volunteer leaders to be involved in the committees to support the AAI-S Certification. For information about opportunities contact AAAIP.

Does AAAIP offer liability insurance?
AAAIP members have the opportunity to purchase liability insurance coverage tailored to AAI professionals at a group rate. This insurance covers the unique exposures of AAI professionals as well as their therapy animals while working. For more information visit the Business Insurers of the Carolinas website or the insurance FAQ page.
---
For additional support, please contact AAAIP.